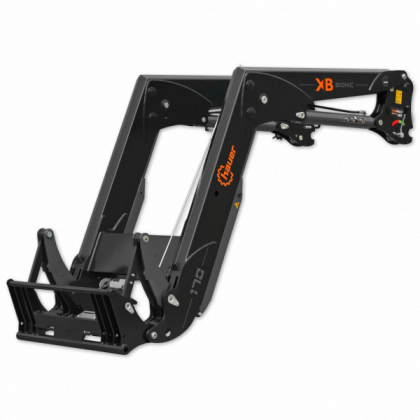 Hauer front loaders are used for many applications. Therefore, it is crucial to equip a front loader as universally as possible according to their needs. For this reason, Hauer offers a variety of accessories for its front loaders, such as hydraulic selection valves for operating implements, an SMS shock absorption system for cushion loads or else a safety package for the use of the working platform.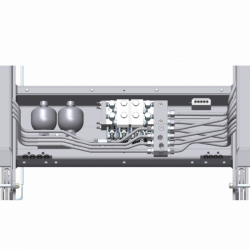 For easy operation of hydraulic implements
Further information ...
Protected by the crossbeam, the "MCV" valve system can be modularly extended by up to 4 additional hydraulic functions. Bale grippers, holding down devices or the log grapple with rotator can be operated on this way.
The Synchro-Lock or the hydraulic standard couplings are easily accessible on the left side of the quick coupler.
SMS shock absorption system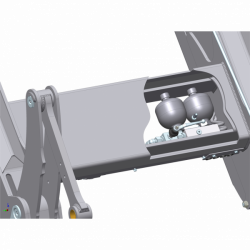 The SMS shock absorption system increases driving comfort and protect the front loader and the tractor.
Further information ...
The shock absorption system "SMS" reduces impacts that occur when driving on uneven terrain. It spares front loader, tractor and the driver.
On the XB Bionic the SMS system is available mechanically or optionally electrically switchable.
It consists out of nitrogen filled accumulators that are subjected to a pre-set pressure to reduce shocks.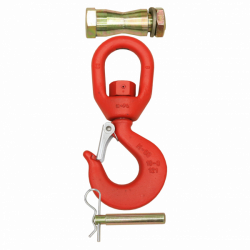 Stable load hook for easy pick-up and transport of e.g. Big Bags.
Further information ...
The preparation for mounting the load hook on the quick change assembly of the front loader, is avaible as a standard feature of XB Bionic. Therefore the load hook can be easily refitted with a fastening bolt and a locking pin on the front loader XB Bionic.
With the front loader series POM-R this preparation is not included as a standard. However, there is a complete solution with which the load hook including the mounting fixture can be refitted.
The swivel hook has a swivel range of 360° (endless).
JOYSTICK CABLE REMOTE CONTROL VALVE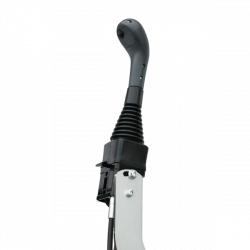 Mechanical control valve with bowden cables.
Further information ...
STRAIGHTFORWARD CONTROL
WITH BOWDEN CABLES
The mechanical joystick control is the perfect retrofit option for tractors that lack the necessary
spools. This offers two double-acting circuits for lift/drop and tilt/crowd and optional wiring kits
that include the necessary push buttons for operating up to three extra hydraulic functions.

The separate chest is mounted either under the tractor cab or on the implement carriage and is
cable controlled with the joystick. We offer either custom kits for every tractor model or universal
kits for which you need to specify the required cable length.

The Performance Package 2 comprises the joystick cable remote control valve complete with
all necessary push buttons and wiring kits.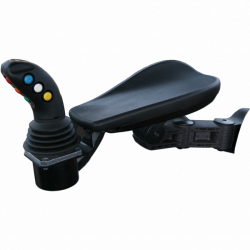 Electrical control valve with sensitive response characteristics for professionals.
Further information ...
MOST COMFY
AND EASY TO USE
Offering easy use and a professional level of specification, the electric proportional ELC ergo 2 stands out for particularly precise and modulated control.
The ELC ergo 2 joystick controls the traditional functions plus extra hydraulic spools for implements and such functions like auto shedding, attachment roll-back or SMS loader shock absorber. In addition to these, customers can opt for up to six extra and customisable functions (e.g. tractor powershift/shuttle). These must be programmed by dealer staff. In standard configuration, the joystick controls the 3rd and 4th services, shedding and two float positions for tilt/crowd and lift/drop. These functions can easily be reprogrammed by operating two buttons in combination and without making a change to the software.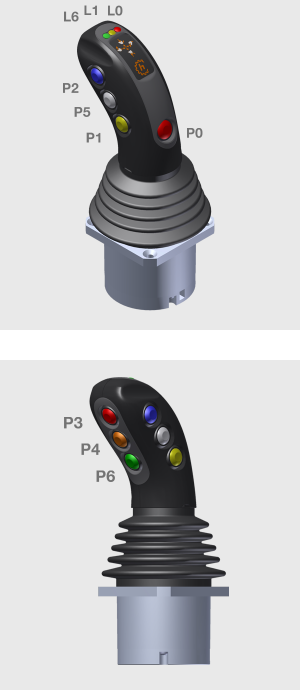 Lift / drop
Tilt / crowd
On / Off master switch (P0)
On / Off master switch indicator LED (L0)
Float position button (P1) This can also be assigned any other function acting as button or switch, 12V/60W
Float position indicator LED (L1)
Shedding button (P5) This can also be assigned any other function acting as a button or switch, 12V/60W
Roll-bach button (P2)* This can also be assigned any other function acting as a button or switch, 12V/60W
3rd service button* (P3), 12V/60W
4th service button* (P4), 12V/60W
5th service button* (P6), electr. SMS or work lights, This can also be assigned any other function acting as a button, 12V/60W
5th service* indicator LED (L6)
*IMPORTANT:
Some extra hydraulic functions require extra spools and sensors.
The ELC ergo 2 joystick is comprehensively specified with all switches, buttons and LED indicator lights that may be necessary for retrofitting optional features.
There is no need to modify the joystick when adding further functions.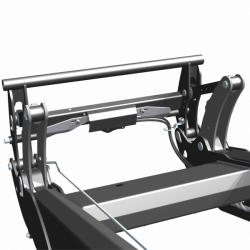 With a push of a button, the implements change hydraulically.
Further information ...
The hydraulic locking device is available for safety reasons only with two-handed operation. It is also available as a retrofit kit.
The locking cylinder is installed well protected by a cover.

ATTENTION!
An additional hydraulic function is required for operation.
Hydraulic rotating mechanism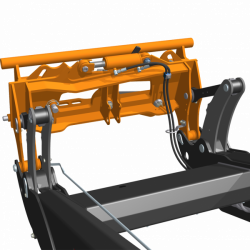 Quick change assembly rotatable by 14 ° left and right.
Further information ...
With the hydraulic rotating mechanism integrated in the quick-change assembly, the implement can be tilted 14 ° left and 14 ° right.
Application example: the vehicle drives with two wheels on a sidewalk.

Also available in combination with hydraulic SWE locking!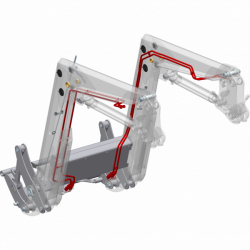 Additional lines with connection to the rear control units for a maximum oil flow.
Further information ...
 Because some attachments, such as a sweeper with a hydraulic motor, which requires a large amount of oil, Hauer offers additional lines for the XB Bionic front loader series. The additional lines are directly connected to the rear control units and run either on the left side of the loader under a cover or on the right side of the swingarm.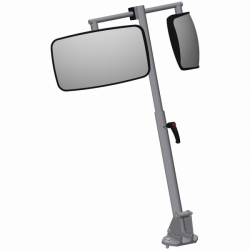 For safe entry into intersections.
Further information ...
To make driving with a front loader even safer in traffic, Hauer offers a mirror package which is mounted on the cross beam. Thus, an intersection can be viewed without having to retract into it. It consists out of two mirrors which are mounted on a telescopic tube to be individually adapted to each tractor.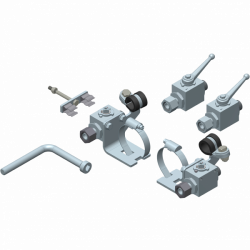 For safe use of the working platform.
Further information ...
The safety package consists out of two stopcocks for mounting in the tilting line and two stopcocks with throttle hole for mounting in the lifting line to reduce the lifting and lowering speed to 0,4 m / s.

Important:
The complete unit "tractor-front loader-working platform" has to be certified from a certifying organisation specified by local authorities again after mounting! Please consider, the local rules for the use and certification of the working platform.
Forestry protection plate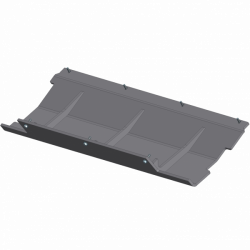 For increased protection of the valve assembly in forestry.
Further information ...
The forest protection plate consists out of a thick-walled sheet metal, which is mounted on the back of the cross beam. It has three reinforcing ribs for maximum stability and durability.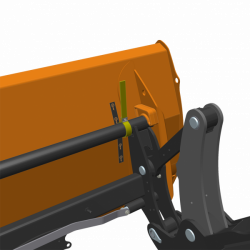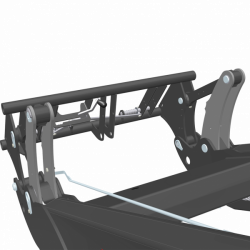 For connecting implements with SMS attachment to a Hauer front loader.
EURO-SMS quick change frame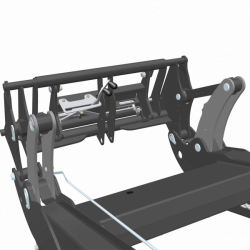 Combined quick-change assembly for connecting work implements with EURO or SMS attachment.
EURO-MX quick change frame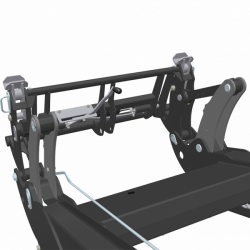 Combined quick-change assembly for connecting implements with EURO or MX attachment.
Multi-hose coupler - Synchro Lock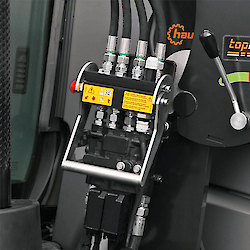 Quick and easy coupling of hydraulic and electrical connections.
Further information ...
Maximum comfort is provided by the Hauer Synchro-Lock multi-hose-couplers. All hydraulic lines and the electrical connection of the front loader can be coupled with just one hand with the Synchro-Lock.
These multi-hose-couplers can also be used on the implements and not only on the front loader. A particular advantage of the Synchro-Lock is, that the hydraulic connections can also be coupled under pressure.