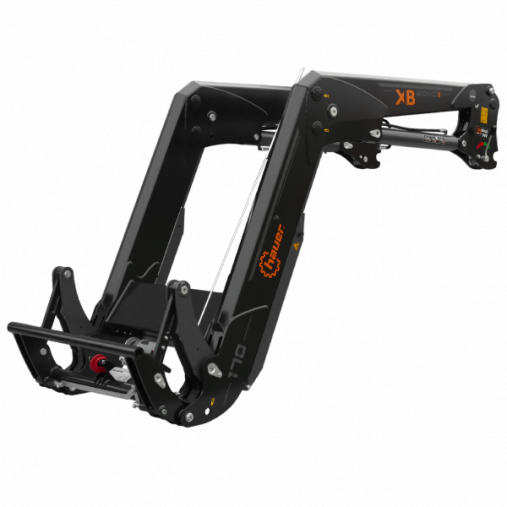 INNOVATION
TRIED AND TESTED.
Adopting the principles of design from Mother Nature proved to be a rewarding approach that takes the hard work out of your daily routine. All moving parts are accommodated inside the boom where they are protected from damage and contamination – a design that not only boosts their lifespan but also saves time spent on servicing and cleaning.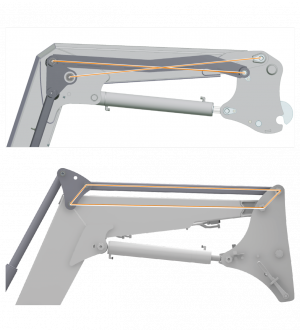 The patented Hauer X-kinematics redefine the state of art in front loader parallel control manufacturing. By redefining the mechanical parallelogram by using diagonal X-kinematics we have been able to integrate the linkages inside the boom, which results in a much tidier and more compact design.

The advantages at a glance
Unique, patented construction with a universally applicable, modern design

Highest stability given by the construction of the loading arm profile and the double-walled cross beam

Optimal protection of the hydraulic components by integration into the loading arm and cross beam

Up to 30% more crowding force and quick dumping without using a quick valve by reverse arranged tilting cylinders

Wide range of accessories for professional and special applications (Auto lubrication, work lights, camera etc.)

Greatest possible view on the working area due to the elimination of the outside parallel motion unit and due to the cross beam positioned at an angle.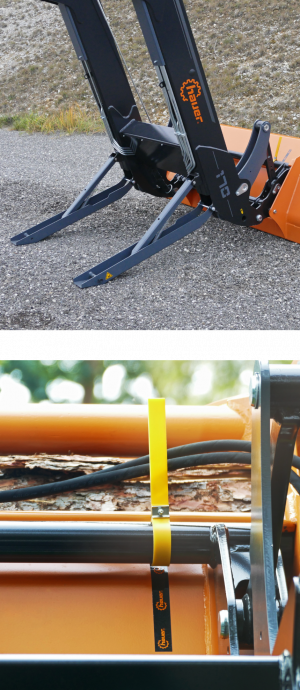 Extensive serial equipment
Front guard, hydraulic lines to the original control unit, hydraulic hoses, couplings, bracket and screw set to suit the tractor type
Quick-change assembly for implements, prepared for load hook, original HAUER or EURO-, SMS- or MX-hooks
Modular hydraulic valve block system MCV, protected in the double-walled cross beam profile
Double acting lifting cylinders
Tilting cylinder - protected by a pressure relief valve
Replaceable bronze bearing bushes in all bearing points
Shut-off valve in the lifting line
Protected hydraulic lines mounted at the lower side of the front loader arm
Adjustable level indicator
Adjustable parking props, manually operated
Implement assistant
Possible additional equipment:
Synchro-Lock multicoupler (also available with integral electric coupler)
Up to three extra hydraulic services
SMS shock absorber for front loaders - either mechanical or electric
Joystick cable remote control valve
ELC ergo 2 joystick featuring electric proportional control
Swivel hook
Hydraulic attachment locking system
Hydraulic 14° left/right slewing mechanism, integrated in the quick-coupling carriage
Safety package for work cages
Auxiliary oil lines to hydromotor or remote function, double-acting 12mm internal diameter,
left or right
Custom paint finish of boom and brackets
V-mirrors (Switzerland)
Camera-ready
Camera
Automatic lubrication
LED lights
Cross beam guard for forestry work