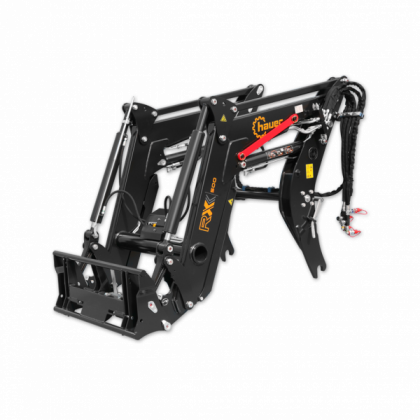 Hauer front loaders are used for many applications. Therefore, it is crucial to equip a front loader as universally as possible according to their needs. For this reason, Hauer offers a variety of accessories for its front loaders, such as additional lines for operating implements, an SMS shock absorption system to cushion loads or else a safety package for the use of the working platform.
SMS shock absorption system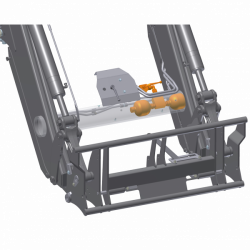 The SMS shock absorption system increases driving comfort and protect the front loader and the Unimog.
Further information ...
The shock absorption system "SMS" reduces impacts that occur when driving on uneven terrain. It spares front loader, unimog and the driver.
The SMS system can be activated and deactivated with a shut-off valve.
It consists of a nitrogen filled accumulator that are subjected to a pre-set pressure to reduce shocks.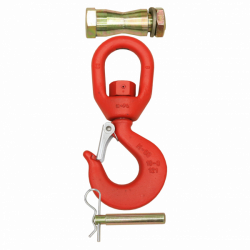 Stable load hook for easy pick-up and transport of e.g. Big Bags.
Further information ...
The preparation for mounting the load hook on the quick change assembly of the front loader, is avaible as a standard feature of XB Bionic. Therefore the load hook can be easily refitted with a fastening bolt and a locking pin on the front loader XB Bionic.
With the front loader series POM-R this preparation is not included as a standard. However, there is a complete solution with which the load hook including the mounting fixture can be refitted.
The swivel hook has a swivel range of 360° (endless).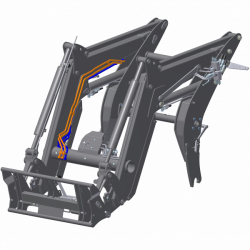 For easy operation of a hydraulic implement.
Further information ...
The additional hydraulic lines are easily coupled on the right side of the Unimog via standard hydraulic connections. The minimum required equipment of the Unimog is HN4 (two-circuit hydraulic system 3-cell). The additional lines make it easy to operate a hydraulic implement.
In order to reduce the danger of tipping over with the Unimog, a weight formwork is mounted on the loading area. This formwork is filled with gravel to adjust the weight individually for each use.