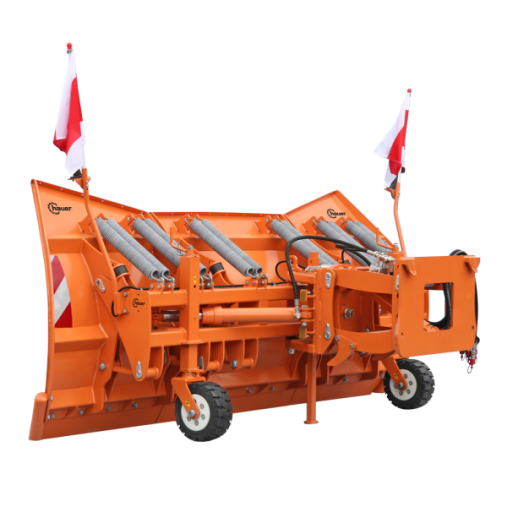 MADE BY PROFESSIONALS FOR PROFESSIONALS
FOR ALL SNOW CONDITIONS
Built to a rugged design, the SRS / SRS-L series snow ploughs were developed to perform in the harshest winter conditions.
The two- and three-piece SRS ploughs stand out for their extremely robust carriage frame, massive pins and bearing surfaces and a heavy-duty tilt and lifting linkage. These features make them the ideal tools for professional users and extreme snow conditions. This heavy-duty model line is complemented by our light-duty SRS-L ploughs for less extreme situations.
All models in both ranges feature the pivoting wheel system for perfect tripping.

HAUER, EURO 3/5 or VSS-A or VSS-B coupling plate
Three-point cat. 2
Height-control carriage for compact skid-steers
Two-/three-piece plough with flared blades
Hydraulic side adjustment, double pressure relief valve protected
Lift and press feature (requires coupling plate)
SRS – snow plough protection for professional applications
Height-adjustable skid shoes with impact dampers
Lockable pendulum compensation
Screwed scraping edge made from hard-wearing tempered steel (450 HB)
Hydraulic angling ready (SRS-2 L / 3 L only)
Automatic levelling function
Massive side deflectors (replaceable)
Warning flags
LED side lights
Short oil hoses with couplings
Adjustable drop rate control
Type / Width [mm]
SRS-2L
2400
SRS-2L
2600
SRS-2L
2800
SRS-2L
3000
SRS-3L
2800
SRS-3L
3000
SRS-3L
3200
Weight 3-point attachment [kg]
548
559
571
583
650
663
676
Working width at max. tilt [mm]
2130
2300
2470
2650
2470
2650
2820
Min. pass-trough width at max. tilt [mm]
2270
2440
2610
2790
2610
2790
2960
Max. width [mm]
2580
2780
2980
3180
2980
3180
3380
Pivot angle [°]
+/- 30°
+/- 30°
+/- 30°
+/- 30°
+/- 30°
+/- 30°
+/- 30°
Blade height centre / wings [mm]
850/1000
850/1000
850/1000
850/1000
850/1000
850/1000
850/1000
Spring-loaded skid shoes with stepless height control and impact dampers or Super Elastic wheels
Type / Width [mm]
SRS-2
2800
SRS-2
3000
SRS-2
3200
SRS-3
3000
SRS-3
3200
SRS-3
3400
SRS-3
3600
Weight 3-point attachment [kg]
820
840
860
1000
1030
1050
1070
Working width at max. tilt [mm]
2405
2575
2740
2560
2730
2900
3070
Min. pass-trough width at max. tilt [mm]
2580
2750
2920
2740
2910
3080
3250
Max. width [mm]
3000
3200
3400
3180
3380
3580
3780
Pivot angle [°]
+/- 32,5°
+/- 32,5°
+/- 32,5°
+/- 32,5°
+/- 32,5°
+/- 32,5°
+/- 32,5°
Blade height centre / wings [mm]
1050/1220
1050/1220
1050/1220
1200/1400
1200/1400
1200/1400
1200/140
Steplessly height-adjustable elastic wheels
Steplessly height-adjustable skid shoes
Snow clearing rubber deflector
Snow dust curtain
Rubber fabric edge (SRS-L GU 200/40, SRS- 2/3 GU 200/50)
Küper S36 scraping edge
Hydraulic 14°/14° left/right angling